Regarding the various modes of language fluency, I rather like this chart, which places the various activities on a matrix.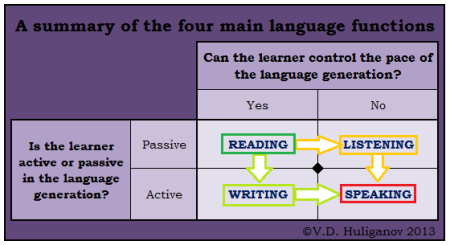 Activities can help each other when linked by arrows, but the diagonal move won't work -- i.e reading, which is passive and done at your own pace, won't
directly
help your speaking, which is active and time-critical.
But reading will obviously help your writing, and reading will also help your listening, because if you have read a word, it is more likely you will recognise it when it is spoken.
The same guy also formulated a succinct statement about learning languages in general. "
Anything which keeps you going in the marathon of learning languages, is your friend. Anything which you find demotivating which detracts from the pleasure of doing it, is not your friend.
"
A longer discussion about the Four Functions is here.