If your audio isn't working with (most) modern browsers
, please use the
site control panel
to change your
audio
settings to '
mp3
'. Be sure to click on 'save changes' in the lower-left corner to apply the setting. This step is necessary because unfortunately we are not able to modify the 'default' value(s) for any site settings at this time.
---
January 1, 2021
Happy New Year! Many thanks to David for this large update:
September 14, 2020
Today we have uploaded 642 new word or phrase entries, many additional edits, updates and corrections, and the following 18 new reading lessons. Many thanks to David for these updates!
June 22, 2020
Many thanks to David for these updates:
March 16, 2020
New uploads today include vocabulary and dialogs related to the COVID-19 outbreak:
January 6, 2020
October 27, 2019
New uploads today include 468 new native-speaker audio clips, the following new lessons/dialogs (including entries for new words referenced), plus additional updates and corrections:
June 26, 2019
Today's upload includes a lengthy
short story
and several other
reading exercises
, as well as about 34 pages worth of new Thai words and phrases. Many of these come from the edits and new additions that users have suggested through this website's online web submission form, so thanks to our user community for these.
As always, all the new Thai words are carefully vetted, fully cross-linked, and of course presented with the freshly curated English definition and fully
user-customizable transliteration
display that
thai-language.com
is known for.
This is a particularly large update; thanks David!
---
Many thanks to Christian Rishøj for creating our new
app for the iPhone and iPad
,
Thai-English Dictionary from thai-language.com
. The app is free and it's now available at the
iTunes store
.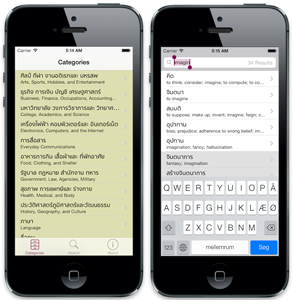 ---
I am also pleased to recommend the following product which is helping me with development on my Thai language research: